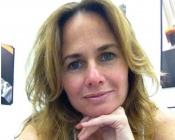 Margaret Reid Boyer is a photographer who specializes in narrative realism. She shoots on film with a medium format camera because this classic technology allows her to capture detail in a way that lends a sense of immediacy and authenticity to each image. Her background in Art History and literature informs her image making in the ways in which she chooses to describe each sitter and how they inhabit their world. She employs visual language that is unaffected and straightforward in order to create images that are both elegant and true.
In her personal fine art projects she records the ways in which subtle vulnerabilities reveal themselves in our every day lives. In her still lives as well as her studies of people, she concentrates on the specificity of household objects and the complexity of body language to create a narrative about the gendered paths we tread and the roles we take on due to a combination of habit and force.
She is passionate about literature and photography and is driven to investigate the conceptual place where they connect. Currently she is researching the connection between the invention of photography and the development of literary realism in the mid 1800s.
Margaret was born and raised in Brooklyn, New York where she currently resides with her husband and four children. She received a BA degree in Art History from Vassar College and an MFA in Photography from the School of Visual Arts. Her work has been exhibited at Steven Harris in New York City, The Washington Art Association and KMR Arts in Connecticut.